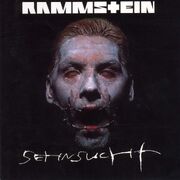 Sehnsucht (German for "Longing", "Desire" and sometimes "Hunger") is Rammstein's second album. It was released on 22 August 1997. The album booklet folds out to reveal six different covers, one for each band member (each photo depicting the member with bizarre facial-wear made out of ordinary kitchen objects like spatulas, spoons, forks etc.). The cover most commonly seen features Till Lindemann with a muzzle and bent forks blocking his view, as they are placed over his eyes. The cover art was created by Austrian artist Gottfried Helnwein. The album is the only album entirely in German to be certified Platinum by the RIAA in the United States.
Track listing
Edit
Original CD
Edit
Bonus tracks
Edit
Depending on the country of purchase, the following are possible bonus tracks after track 11:
The "Asche zu Asche" single as a second CD.
The Australian tour edition has 18 tracks:

The Limited edition (released in 1998) has 14 tracks:

"Rammstein (Eskimos & Egypt Radio Edit)"
"Du hast (Remix by Clawfinger)"